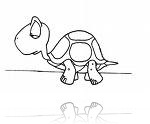 I had to get a fresh OS install last month.  I finally bothered to upgrade IE6 to IE7.  I thought it would be a 5 minute process.
Instead, my machine was locked up for over 45 minutes.  It started out simple enough, and the actual work portion of the installation only took a few seconds.   Then I had to reboot (why?).  When the machine came back up it was stuck "applying personal settings" for about 30 minutes.  After it reached the login screen, I entered my credentials, and then again it resumed "applying personal settings" for another 10 minutes before I could use the machine again.
I don't understand how Firefox, Opera, and Chrome can all create installers that take less than 1 minute, and Microsoft can't.  It's just broken.
Note:  The IE8 beta requires 2 reboots.