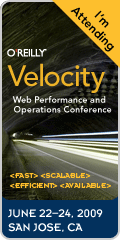 I'll be presenting as part of a discussion called What Makes Browsers Performant at the Velocity 2009 Conference, on June 23rd. I've got limited time, but I'll give an overview of how we approach performance in Google Chrome, detail some of the key areas in performance which make Chrome stand out, share some performance numbers never before shared, and hopefully squeeze in a must-see demo or two.
I'm a developer, not a marketer, so this will be an entertaining, technical talk, with no spin and no "marketecture"! As a bonus, I promise to tell at least 2 good jokes. If you don't laugh, you get your money back. Ok – that's not true, ask the conference people about that.
If you haven't signed up yet for Velocity you can use the coupon code VEL09FSP to get a 15% discount on tickets.