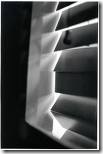 In the process of updating our living quarters, I had the opportunity to use both SelectBlinds.com and also Blinds.com for different window coverings in our house. Since my carpet review of Home Depot and Empire Carpet was so popular, it seems that people want to hear about this.
Blinds.com
Blinds.com was the first company we did business with. We ordered about 20 1″ wood blinds. The total cost was about $1000. The blinds arrived promptly – within about 2 weeks of our order. The blinds look great, and we haven't had many complaints. Within a few months, one of the blinds that we ordered had the string break; we barely use the blinds, so we're pretty sure it was a manufacturing issue. We contacted the company, they sent out a new one, and everything is fine. Overall, I think we got a really good price and the company honored their promises. Great.
SelectBlinds.com
I used SelectBlinds on a secondary order because this type of blind was cheaper than via Blinds.com. We wanted the honeycomb shades. These take a little longer to order, presumably because they sell less volume. They estimated 2 weeks. After 3 weeks had gone by, I hadn't heard anything, so I contacted them via their website. No response. Instead, I called their 888 number, and the support person was fairly nice. She indicated that they'd have to contact the manufacturer, and then find out what happened – as our order had already passed to the manufacturer. They then did reply via email that they had contacted the manufacturer and that the order would be mailed "any day now", and the order was finally processed over a week later. In all, it took about 4 weeks to get the blinds. Once finally received, the blinds were great; we like them and they installed fine.
Conclusion
Both companies provided what we asked for and the blinds look great. Blinds.com had a one low quality blind, which they fixed without trouble. SelectBlinds was a little late with delivery, but the blinds were less common ones. Overall, I think the two were exactly the same. My conclusion: use whatever coupons you can find and just pick the cheapest. The product, ease of installation, and promises on goods delivered is about the same.