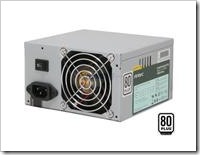 I don't make any money on this; and I rarely promote products. But this is a great deal, and I just bought one.
You can get an Antec Earthwatts 380W power supply for $5 (after rebate) with free shipping. The 80plus power supplies will generally reduce your computer's power consumption by 20-25%.
Newegg is selling it for $35 with free shipping.
Here is the $30 mail in rebate, which expires today.