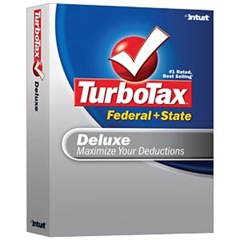 I've alternated between using each of these products over the last few years. Usually, it's incredible how BOTH have the exact same offerings at the exact same price. This year, it's a little harder to find their best price.
I'm not a big believer that either of these software packages can save you money. You still need to do your own research, understand your income, and experiment with filing methods to determine which path best optimizes your situation. But both do provide lots of tips for helping you discover the potential pitfalls and windfalls. Honestly, I see very little difference in functionality between these products.
The H&R Block web site offers the "Federal + State" package for $39.95. I haven't seen a better price or any coupons.
The Intuit web site offers "Deluxe Federal + State" package for $44.95. However, you can buy this same software from Costco for $35.99. Further, this week Costco is offering a $15 coupon for it, so the price is effectively only $20.99.
Intuit is also promoting their online product; but it appears to be far more costly – $29.99 for federal and an additional $29.99 for state; e-filing is included for free. $60 and you get to put all your personal information on someone else's web site! Hope they don't get hacked! (If you were a hacker, it might be a gold-mine to try to hack, eh?)
Anyone find any better deals?
This year I'm using TurboTax; $20.99.