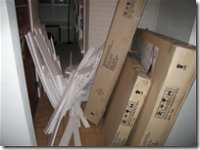 A few months ago we ordered some furniture from Costco. The furniture was 4 bedroom pieces, which cost $1500. It was backordered, so it took more than two months to arrive. It finally arrived, in two shipments. The first shipment was 250lbs, the second was 347lbs. Pictured here is a portion of the packaging materials from the second shipment. In all, there was twice as much as is seen here.
The furniture is great; well crafted, well packed, and requires very little construction. We're very happy with it.
What surprised me, though, is that this furniture was built in Thailand.
So, lets get this straight. It's cheaper to build furniture in Thailand, pack it, and ship it (with a shipping weight of over 500lbs across 5 boxes), than it is to build it here in the United States. Wow. I tried pricing how much it would cost me to ship 500lbs of anything to Thailand. That's about 250kg, and as far as I can tell, it would be at least $2000 to ship. Of course, I'm not Costco, so my shipping rates aren't as good 🙂
I knew that labor was cheap there. But this really shows how much cheaper it is. More than 500lbs cheaper. I wonder who made more profit – Costco or the company in Thailand? I'm betting it was Costco.